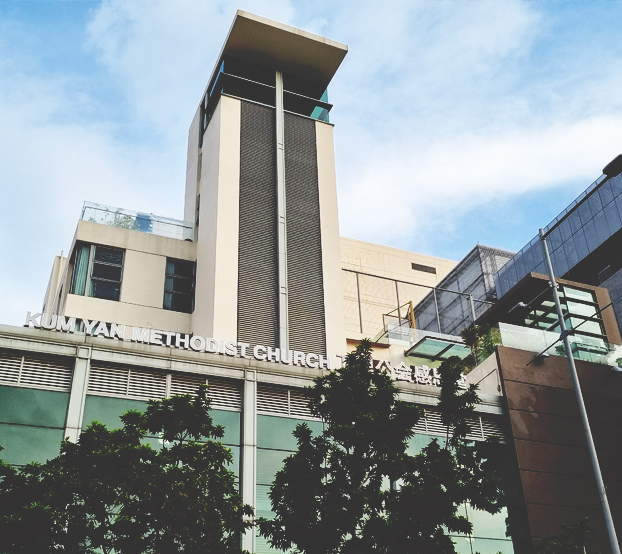 Welcome back to church! Prior to today, we have been worshipping separately on alternate Sundays. But today, the whole community of Kum Yan Methodist Church is together again.
Praise be to God!
Praise the Lord. Praise God in His sanctuary; praise Him in his mighty heavens. (Psalm 150:1)
Two years ago, in March, at the onset of the covid situation, our Bishop directed all onsite worship services to be suspended for a couple of weeks. This was followed by the Circuit Breaker where the suspension of all onsite worship services went on for much longer. Since that time, our church had kept pace with the gradual easing of restrictions.
When onsite worship services were suspended, we began broadcasting our worship services via zoom or youtube. It is so heartening to see our pastors, staff, leaders and volunteers putting to use whatever bits of technical knowledge they had to broadcast our worship services online without missing a week. In the process, they had learned new skills (I learned to do video editing and enjoyed it very much) and cover duties and responsibilities outside of what they regularly do.
Now that we have resumed worship fully, I urge you to join us every Sunday. The Psalmist said I rejoice with those who said to me, "Let us go to the house of the Lord." (Psalm 122:1)
Nevertheless, if you are unable to come for onsite worship, please keep your congregation pastor informed so that we can be praying for you and to provide you with the latest updates. Afterall, every one of you is an important part of our community.
From today onwards, we have removed all the safe-distancing markings on the floor and seats. Meaning, you can return to your favourite seat. The singing of worship songs in Cantonese, Mandarin and English will once again reverberate within the building and on to Queen Street. And I look forward to greeting you all over tea at the fellowship area after service.
Praise the Lord. Praise God in His sanctuary; praise Him in his mighty heavens. (Psalm 150:1)
To God be the Glory!